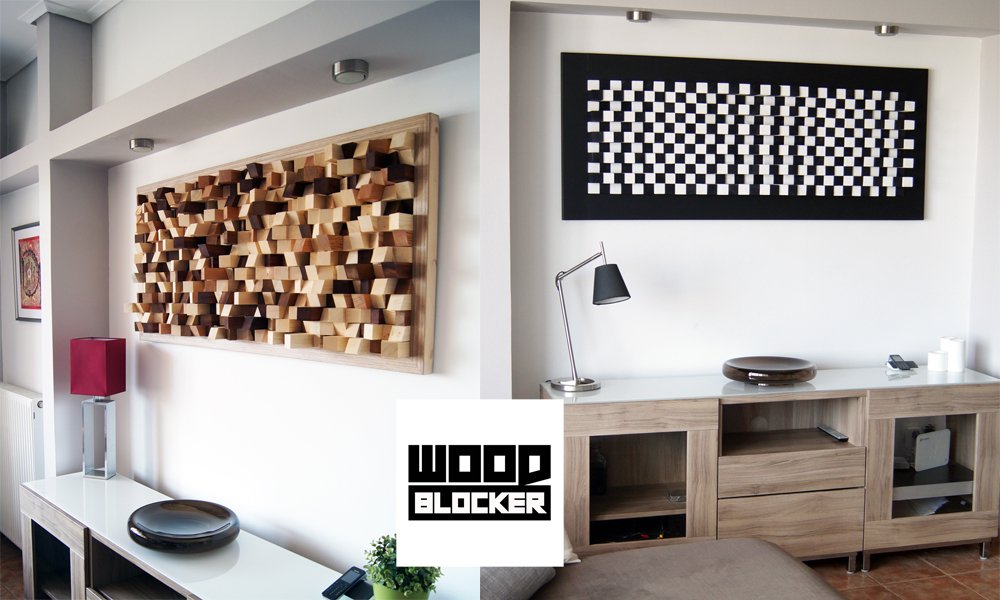 August 18, 2019
In
Craft
3D panels wall art
3D panels wall art
Acoustic panels as wall art decoration
In this article, we introduce WoodBlocker's creator 3D panels wall art decorations that serve also as sound diffusers. 3D wall panels wall art made of wood offer a great visual effect and at the same time a useful function in absorbing unnecessary sounds.
What is a 3D wall panels with sound absorbing properties?
A sound-absorbing panel in a room makes what nature makes to noise in the open air. Our ears receive sound waves that are reflected on many surfaces, such as trees, rocks, and even buildings. We can hear a whistle from 100 meters or more, but with all the bounce and resonance, we can't often determine the kind, the direction and the distance of this sound.
The different surface heights of a sound diffuser or absorber are designed so that a sound wave from any direction beats and is diverted evenly in multiple directions. It allows a natural softening and termination of sound resonance. This is achieved in a room, removing the feeling of being deprived of sound life. A sound diffuser also helps to create permanent waves and filter out the range of all sounds. It can be designed to cover any frequency range from very low bandwidth to high bandwidth.
To help you deliver vital room sound, a sound diffuser absorbs sound but confronts the echo and disrupts the coordination around a room, bringing it to life, as does nature. The room does not sound dead or hollow. It can even make a small room look large. They can be mounted on walls opposite to speakers and even on ceilings. 3D panels wall art are an important addition to any room to improve tuning and perception. In short, they aim to improve the acoustics of a space.
Wall decoration
3D wall panelsAt the same time, 3D wall panels are decorative. 3D wall panels manufactured by Woodblocker are made from 100% eco-friendly materials from various types of wood and painted with water-based varnishes. They are made in different versions and colors, with a wide variety of wood and in different patterns to choose the right one for your space.
WoodBlocker can customize to any size to suit your needs. Contact him for more information
by mail to moker.1972@yahoo.gr
by phone +306939832608
View all 3D wall panels available for sale
WoodBlocker is selling on saatchiart.com